Published March 21st, 2017 - 06:00 GMT
Royal Jordanian airlines and Saudi Arabia's national carrier are among 13 countries that are expected to be affected by a new security requirement by the US Transportation Safety Administration (TSA), according to a reporty by the Guardian.
Distributed in a confidential email, the new requirement would prevent passengers from 13 unnamed countries from carrying electronic devices larger than a cellphone on US-bound flights.  Devices such as Kindles, iPads, laptops and cameras larger than mobile phones would need to be checked in.  

Whilst described as a "circular", and not a public regulation, airlines were given 96 hours to comply and are expected to enforce the requirement.  Royal Jordanian tweeted, and later deleted, instructions to its passengers. A similar tweet from Saudia remains live on their Twitter feed. According to Royal Jordanian, the new rule applies to flights both to and from the US. The circular does not specify whether  electronic flight bags (EFBs), which allow flight crews to display diagrams mapping flight patterns, maps of airports and other digital documentation, usually on an iPad, are included in the ban.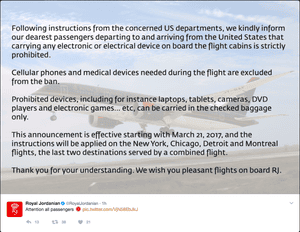 According to the Guardian, the TSA referred calls to the Department of Homeland Security (DHS), who would declined to comment on  such a requirement: "We have no comment on potential security precautions, but will provide any update as appropriate," David Lapan, spokesperson for DHS, said in an emailed statement to the Guardian Monday morning. 
No American carriers are impacted by the ban, which is expected to be announced later today by the Department of Homeland Security.