Published February 27th, 2018 - 01:18 GMT
When Warren Buffett, the world's most successful investor speaks, other investors listen.
This past Saturday, February 24, Buffett's much anticipated, annual letter to the shareholders of his investment firm Berkshire Hathaway, was released.
Here's what he had to say:
"In America, equity investors have the wind at their back," he wrote, with the backdrop of increased volatility and investor nervousness on the future direction of the markets. Buffett's advice to investors comes during a month when the U.S. equity market experienced its worst single-day plunge in almost seven years. In the letter, he also advised investors to never buy stocks with borrowed money. "There is simply no telling how far stocks can fall in a short period," he said in the letter.
Even if your borrowings are small and your positions aren't immediately threatened by the plunging market, your mind may well become rattled by scary headlines and breathless commentary. And an unsettled mind will not make good decisions. - Warren Buffet
But the most important piece of information that investors await is what the Oracle of Omaha is buying and selling. Berkshire Hathaway's quarterly filing with the Securities and Exchange Commission (SEC), showed that during the fourth quarter, Buffett raised his Apple stake in a big way.
Berkshire boosted its Apple position by 23.3%, to 165.3 million shares, suggesting Berkshire Chairman and CEO Warren Buffet does not believe that the so-called supercycle of the iPhone X is losing steam, as has been feared by some analysts. After adding 31.2 million shares in the fourth quarter, Berkshire raised its total position in Apple to about $29 billion at today's market price. The stock closed at $175.50 before the weekend.
Enthusiasm for Apple Stock
Apple is now Berkshire Hathaway's biggest stock holding by value, and there's little evidence to suggest that Warren Buffet's enthusiasm for the tech giant is waning. He told CNBC in August of last year that he has never sold a single share of Apple since buying them.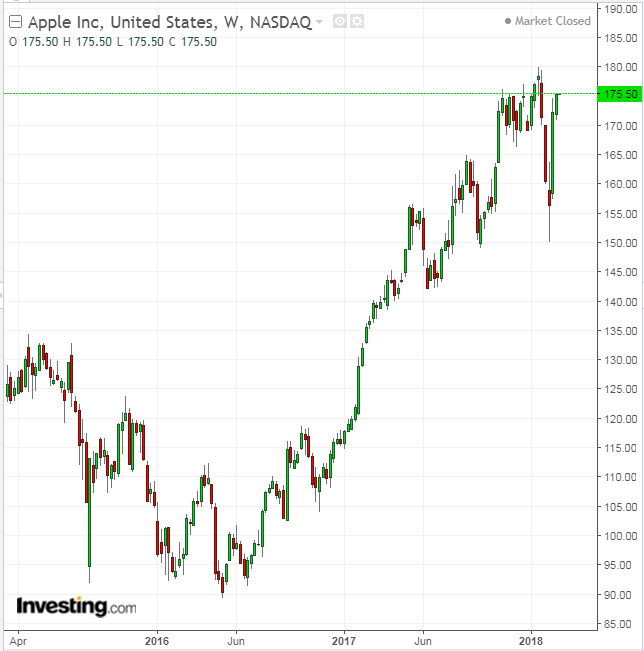 AAPL Weekly 2015-2017 (Investing.com)
This is not the first time that the billionaire investor has shown his enthusiasm for the stock. Buffett first bought Apple shares in early 2016, when the company was struggling to overcome slowing iPhone demand in China. Loading up on more Apple stock in the fourth quarter means he is still bullish on Apple's future despite some signs of slowing sales.
In an article published on February 5 on this site, I advised readers that Apple stock offers good value to long-term investors. I noted that it was worth taking advantage of the dip that followed the company's latest earnings report to enter a position. I think Buffett's fresh buying of Apple stock, at a time when some investors have doubts about the company's future, is a major bullish signal for Apple. Buffett has only a handful of technology investments—indeed, just two, Apple and IBM.
If you are familiar with Buffett's strategy, you might have some idea why he likes Apple. Buffett coined the term "economic moat," to describe the power of companies such as Apple. These companies have a durable competitive advantage; they're run by an efficient management team, and their stock trades at a reasonable price. Apple's stock ticks all three boxes.
For some, Apple's reliance on major chip, hardware and software engineering make it a technology company, but I think Apple is a consumer brand. Apple's brand, its stickiness and customer loyalty, provide a major competitive advantage that's hard to match.
Bottom Line 
The latest price action shows that Apple's stock is quickly regaining lost ground after some setbacks earlier this month when the world's largest phone maker said it sold fewer iPhones during the 2017 holiday season than what analysts had expected. The company also missed on Wall Street's expectations for sales during the upcoming March quarter by several billion dollars. Apple stock, after falling to $150.24 on February 9, has surged higher by about 17% since then.
Despite this temporary setback, I don't think Apple has run out of options for continuing to generate explosive growth, especially when it has $250 billion sitting in cash. I expect additional price gains in the coming months as the company recaptures the market's confidence and sales growth accelerates.
By Haris Anwar