Published November 27th, 2018 - 09:51 GMT
Job Fairs are an ideal recruiting solution for filling a large number of vacancies and for being exposed to a large number of candidates from multiple backgrounds and experience levels. Many companies and organizations resort to job fairs as an expedited hiring method.
However, in order for job fairs to be as effective as possible, they require a tool for smoothly collecting and managing hundreds of CV's, advertising and managing vacancies, and assessing the outcomes of the event.
Bayt.com presents to you CV Kiosk; the ideal tool for a quick CV capture at physical job fairs, career fairs, office walk-ins, and campus drives. Many employers across the Middle East and North Africa, such as Landmark Group, Tadawul, and Arabtec, rely on CV Kiosk from Bayt.com for their hiring needs.
Read More
5 Hacks on How to Have a Killer CV
How to Spot a Good CV in Just 30 Seconds
Take a look at the added value of CV Kiosk and the reasons it should be used at every job and career fair.
1. Quick and easy CV management
Collecting and sorting paper CVs at hiring events and career fairs is cumbersome and lengthy. In the fast-paced environment we live in, you need a highly efficient CV capture tool. CV Kiosk provides easy-to-fill, customizable forms for candidates to view and upload their CVs. CV Kiosk automatically generates acknowledgment letters and notifications to help you stay connected with the candidates. The captured CVs are compiled in a list which you can easily filter through, download, and track in real-time. Many sorting and filtering options make it easier for you to navigate large lists of CVs and screen for your desired candidates.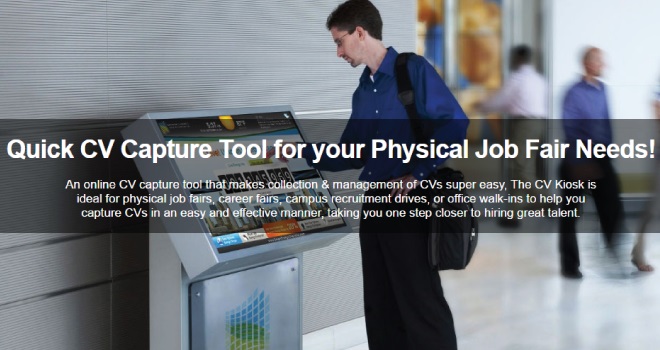 2. Branding capabilities
CV Kiosk is also a branding tool. For any hiring event that you plan to attend, it is vital that your brand is perceived positively to attract the best talent out there. Employer branding is one of the most important aspects that candidates consider when applying for jobs. The design team at Bayt.com can assist you in creating the branding colors, logos, themes, and the over-all story you would like to share with your prospective employees at your hiring events. Alternatively, branded material from your in-house marketing team can be easily integrated into CV kiosk.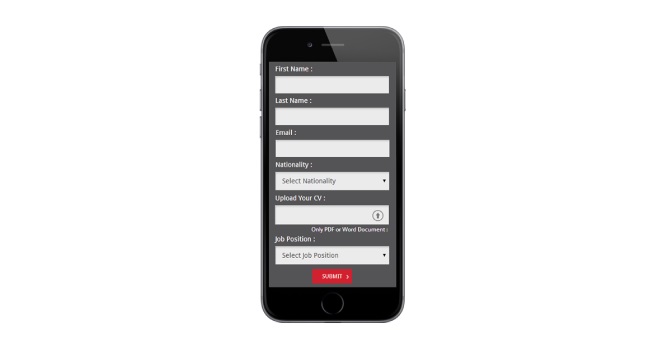 3. Job advertisements
In order to ensure that you are able to fill in all of your vacancies, especially urgent positions, CV Kiosk also enables you to announce urgent openings to all event participants. Candidates can instantly view and apply for the vacancies and you, the hiring manager, will be able to deal with more urgent positions promptly.
4. Mobile Compatibility
The same features that CV kiosk provides on a computer are available on mobile and tablet devices. Being mobile compatible, CV Kiosk ensures that more candidates are able to seamlessly fill-in the form for CV capture and can also stay in contact with the employer throughout the event and hiring process.
5. Detailed reports
How do you know if your career fair or hiring event was successful or not? Did you fill in all of your vacancies? Did you find the type of talent you were seeking? CV Kiosk from Bayt.com generates detailed reporting based on various candidate dimensions such as educational qualification, nationality, experience level, and others. These reports are highly useful in analyzing your candidates in order to determine whether or not you are targeting the correct talent pool, as well as maximizing your Return on Investment (ROI) from your participation in a particular job or career event.
This article originally appeared in Bayt.com. This article and all other intellectual property on Bayt.com is the property of Bayt.com. Reproduction of this article in any form is only permissible with written permission from Bayt.com.