Iranian film 'The Salesman' to screen at Cannes? Sold!
Iranian director Asghar Farhadi is traveling to France to watch his film screen at the festival. (blog.thefilmstage.com)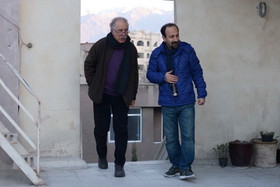 Iranian film "The Salesman," by Iranian director Asghar Farhadi, will be screened in the coming days at the Cannes International Film Festival.
Before traveling to France to participate in the international event, Farhadi spoke to the news agency ISNA.
During the interview, Farhadi said his film will be screened in Iran mid-summer.
"We expected that we would screen the film in Iran and Europe simultaneously, but it will be released in France in November, so I wish we could release it in Iran quicker. I will attend the film's screening in Iran."
"The Salesman" will be presented as a joint product of Iran and France in the 69th edition of the Cannes Film Festival, he said.
He added that the producers of the film are the Memento Company and himself. Its investor was also himself and a Qatari company.
"As for its television release, this task was given to the French channel ARTE," he added.
Regarding screening The Salesman in the US, Farhadi said it will likely be signed on by Sony Pictures.