We absolutely live for these moments of big dreams and hopeless romance. Egyptian bride-to-be Kah Ra Mana wrote the cutest and most adorable thing we've seen all week. Forget about Taylor Swift and Justin Timberlake prom invitations, because we just got our Egyptian version of a celebrity crush and a simple dream.
The bride stated yesterday on Facebook that she was about to do the craziest thing she's ever thought of, explaining that anyone who knows her would understand her 11-year-long dream that singer Mohamed Hamaki attends her wedding.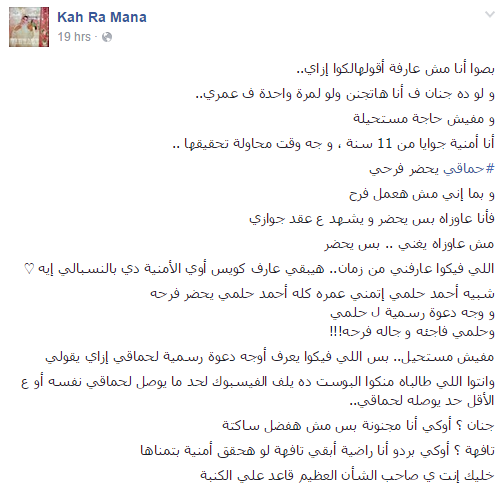 Since the bride won't be having a wedding party, her dream is that Hamaki attends her Katb Ketab. She doesn't even want him to sing, her only dream is for him to be there. The status went viral and the star himself received the invitation and said he will be the first one there. I love this so much, every bride deserves a fairytale night and Hamaki just made her wish come true with a simple status.
I have faith in the power of social media and I wish I thought about this before my wedding. I would have invited Dhafer L'Abidine or maybe I would have asked Hany Adel to sing my first dance song. Sigh!
By Dina Hashish