Iraq's government ordered Mosul's civilians to stay home. Does that make them responsible for their deaths?
An airstrike in west Mosul. (AFP)
As the battle for the western part of Mosul began, the Iraqi government dropped millions of leaflets with a message to the city's civilian population: stay home.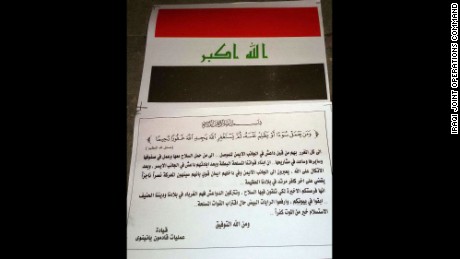 A picture of the leaflet dropped by the Iraqi military to residents in west Mosul. (CNN/Iraqi Joint Operations Command)
That message has come under renewed scrutiny today after prominent rights group Amnesty International accused the US-led coalition of carrying out "an alarming pattern of airstrikes which have destroyed whole houses with entire families inside."
The coalition has been supporting Iraqi troops in Mosul with airstrikes, including one that is reported to have killed more than 100 civilians.
Donatella Rovera, the organization's Senior Crisis Response Adviser, said in a statement that, "The fact that Iraqi authorities repeatedly advised civilians to remain at home instead of fleeing the area indicates that coalition forces should have known that these strikes were likely to result in a significant numbers of civilian casualties."
Airwars, an organization that tracks coalition airstrikes and reports of civilian casualties, said civilian deaths had increased in the last months of Obama's presidency and accelerated even further under Trump.
Al Bawaba asked Stephen Wilkinson, a legal researcher at the Harvard Humanitarian Initiative, to explain the responsibilities of the Iraqi and US governments towards Mosul's civilians after telling them not to evacuate the city.
"The military have awareness of a high civilian presence in the areas in question, and therefore would have to demonstrate an overwhelming military advantage to justify the anticipated civilian harm that would occur during their attack."
"The knowledge of the civilians' presence is very important, as the standard excuses of 'lack of knowledge' or 'mistake' would have no weight here. International law also demands that states take all feasible precautions in attack, and in this case it appears that this standard hasn't been met."
Amnesty International has also accused Daesh of using Mosul residents as human shields in what the organization said was a "war crime". Rovera, the adviser, said that the "shameful" use of human shields in the city meant the risks to the civilian population were enormous.
"However, the IS's [Daesh] use of human shields does not absolve Iraqi and coalition forces from their obligation not to launch disproportionate attacks," she added.
Wilkinson, the legal researcher, said that, "Given the facts available, I have concerns that such strikes may amount to direct attacks on civilians, in clear violation of international humanitarian law. Such concerns could even cross the threshold of a war crime."
"If violations do occur, especially those that amount to war crimes, then not only the Iraqi government, but also the international community have the obligation to investigate and prosecute such offences."
Testimony provided to Amnesty International by Ahmed Qadhem, a Mosul resident, illustrated the devastating effects for civilians of being caught between the warring sides.
"Last year Daesh arrested and executed the children's mother and now the children themselves were killed by a coalition bombing."
"Civilians got trapped in this war and no one helped them."
The US is reportedly investigating some airstrikes in Mosul, but whether anyone will ultimately be held responsible for the deaths of civilians there remains to be seen.
Jacob Burns
Follow the Loop on Twitter and Facebook