The Church of the Holy Sepulchre has closed for the first time since 1990
Rome's Colosseum was lit red in solidariy for a Pakistani Christian woman
All around the Middle East and its neighboring countries, Christians are facing persecution
As a result, the region is witnessing a massive, protracted exodus of its Christian minority
The indefinite closure of the Church of the Holy Sepulchre to protest Israel's new allegedly anti-Christian law has drawn attention to a larger pattern of persecution against Christians throughout the Middle East and Muslim world.
The leadership of the Church have condemned Israel's new moves to tax Christian-owned land and proposed law that would prohibit them from selling land to property developers—something that could eventually force inhabitants off Christian-owned land.
In Pakistan too, a Christian woman has been sentenced to death for blasphemy, a charge she vehemently denies. In solidarity with the Pakistani woman, Rome's Colosseum was lit red on Saturday, Feb. 24.
The Middle East and countries surrounding it have experienced a sustained flight of their Christian populations due to a combination of prosecutorial policies and sectarian conflict that often targets religious minority groups.  
Unifying Against Perceived Discrimination
The Church of the Holy Sepulchre is jointly run by several Christian sects and is infamous for being both ofe of the holiest site in Christianity, and one of the most contentious in the religion. Rarely do each sect collaborate on shared goals, but Israel's latest moves have prompted the sects to issue a joint statement decrying what they perceive to be discrimination. The statement comes from the collection of Greek Orthodox, Armenian Apostolic and Catholic leaders that jointly oversee the Church of the Holy Sepulchre.
"This abhorrent bill is set to advance today in a meeting of a ministerial committee, which if approved would make the expropriation of the lands of churches possible… This reminds us all of laws of a similar nature, which were enacted against the Jews during dark periods in Europe." 
Christian landowners have reportedly been selling off their real estate holdings at high frequencies and low prices, raising questions about the motivations and legality of the sales.
But for embattled Christians in the region, Israel's new and proposed laws are unsurprising and serve as more evidence that they are no longer welcome.
Rome's Solidarity with Embattled Christians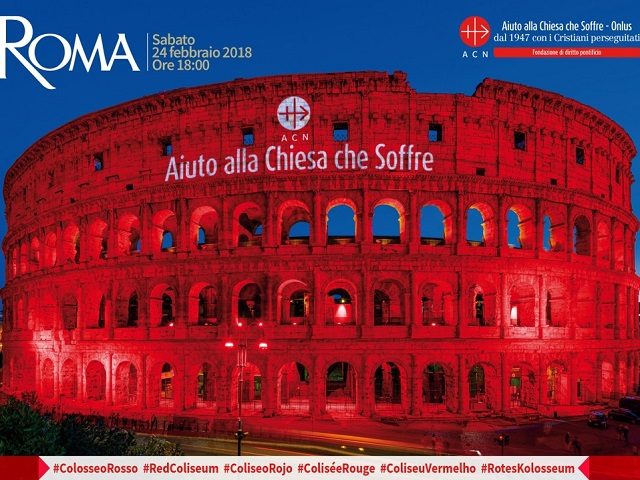 The Colosseum lit in red (ACN)
On Feb. 24, Rome showed its support for Aasiya Noreen, better known as Asia Bibi, a Christian Pakistani woman sentenced to death for blasphemy, by lighting the Colosseum in red.
Her case gained international traction when two local politicians standing up for her were assassinated. Her case has been appealed and her death sentence temporarily suspended, but that offers little respite for the broader structural bias against Christians in Pakistan and beyond.
"The aim of the blasphemy laws is crush people who believe differently," Archbishop Nunzio Galantino, secretary-general of the Italian bishops conference, told those who were gathered at the Colosseum.
Bibi's husband attended the Rome gathering and spoke out against Pakistan's treatment of his wife: "This is just hate against Christians, who are considered impure,"
The Christian Exodus
These are not isolated incidents. Policies and actions against Christians have forced a massive, slow-burning exodus from the region.
In April, 2017 two coptic churches were targeted by suicide bombers affiliated with ISIS, killing over 45 people and injuring over 100 others. Christian minorities were deliberately targeted by ISIS in Iraq and Syria when the group was able to capture and govern territory.
As the Center for American Progress puts it, "some of the oldest Christian communities in the world are disappearing in the very lands where their faith was born and first took root."
The report then goes on to list the exact harms to have befallen Christian communities: "During the past decade, Christians around the Middle East have been subject to vicious murders at the hands of terrorist groups, forced out of their ancestral lands by civil wars, suffered societal intolerance fomented by Islamist groups, and subjected to institutional discrimination found in the legal codes and official practices of many Middle Eastern countries."
One of the most striking examples of this flight is in Iraq, which once boasted a population of about 1.3 million Christians in 2003. About a million have reportedly left the country since then.
Pakistan's controversial application of its blasphemy law against Bibi and Israel's proposed laws targeting Christian land ownership fall neatly into the discriminatory pattern described.
© 2000 - 2019 Al Bawaba (www.albawaba.com)