Published December 10th, 2017 - 02:56 GMT
There are Chinese jihadist sepratists in Syria
They pose a direct security threat to China
China's response has been to crack down on Uyghur Muslims in China
Its short-sighted strategy may end up backfiring, endangering the country further
The Chinese Embassy in Pakistan issued a statement on Dec. 8 warning of imminent terror attacks against Chinese nationals. "It is understood that terrorists plan in the near term to launch a series of attacks against Chinese organizations and personnel in Pakistan," the embassy's website read.
Though no attacks have been reported, the statement reflects a rising tension between China and Islamist extremists, one that may spell danger for China.
With thousands of Chinese jihadists networking and gaining combat experience in Syria under the banner of the Chinese separatist organization, the Turkistan Islamic Party (TIP), China may become a target for global extremism.
Chinese separatism risks becoming entwined into the larger cause of global jihad thanks to TIP, which creates a dilemma for China: work to militarily crush TIP, or continue its policy of remaining distant in the Middle East.
If China acts against TIP, it risks garnering the attention of TIP-aligned jihadists around the globe. But if it merely continues its distant approach to the group, TIP may become more engrained regionally, growing steadily until it becomes a major threat.
Uyghur Separatists in Syria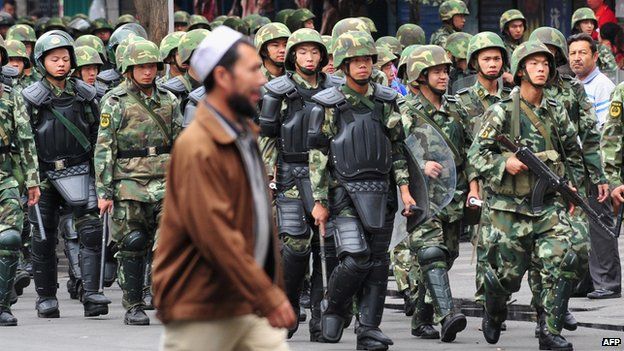 Xinjiang Province, (AFP/FILE)

In 2013, China unveiled a plan called the Belt and Road Initiative to directly connect Chinese infrastructure with much of the world, including the Middle East. At the same time, hundreds of Turkic Uyghurs were flooding into Syria from China, vowing to take its separatist ambitions against China global.
TIP now has an estimated 2,500-3,000 fighters in Syria, warring against Assad and releasing propaganda speeches, videos and photos regularly, which highlight its success in Syria as well as the supposedly jihadist imperative to fight against the Chinese government.
TIP's leadership is spread across Pakistan and Afghanistan, though its membership is primarily derived from Uyghur Muslims in China's northwest Xinjiang province.
In a brief interview, TIP's leader, Abdullah Mansour, announced to the world that "the fight against China is our Islamic responsibility and we have to fulfill it."
The ongoing war in Syria has become a global platform for jihadism, and TIP has taken advantage of this opportunity to push its separatist ambitions.
China has been a distant supporter of the Assad regime, desiring above all, stability in the country that it believes is best achieved under the Syrian government.
News reports surfaced on Nov. 28 that China had sent into two of its special forces units into Syria to combat TIP, which would signal a massive shift from ambivalent observer to active participant in the Syrian Civil War and China's fight against Uyghur separatism.
And though there is, as of yet, no evidence to suggest a Chinese military presence in Syria, China is aware that if TIP's members can gain experience, introduce their ambitions to the world, and return to China, then the group may pose a risk not only inside China, but around the Middle East where China is working to develop infrastructure, which would become targets.
Uyghurs in China
Police in front of a mosque in Xinjiang, China, (AFP/FILE)
Simultaneously, China is tightening its surveillance and control over the Xinjiang Province, most likely with the hopes to contain Uyghur separatism from gaining traction.
Tens of thousands of small police stations are reportedly being built in Xinjiang. Sold as 'convenience stations,' Adrian Zenz and James Leibold wrote for The Jamestown Foundation, documenting a massive increase in low-level police workers. In 2015, China advertised for just under 10,000 jobs. By 2016, that number had shot up to over 30,000.
China has a history of selectively repressing Uyghur Muslim minorities, curtailing their religious freedoms and exerting harsh, repressive controls to contain them. Earlier this summer, residents of Xinjiang's capital city were required to install an app that scanned their phones and automatically deleted 'subversive' content from it in a clear and targeted move against the country's Uyghur minority.
According to Colin Clarke, analyst at the RAND Corporation, and Paul Klan, professor of national security studies at U.S. Army War College, "China's harsh crackdown in Xinjiang could create a new surge in Uyghur radicalization and a new cadre of recruits willing to engage in jihadist operations abroad."
If China continues to seek to tighten its control in Xinjiang, Uyghurs may be driven to TIP's messaging, especially if TIP is seen as a successful and sustainable antagonist to China.

China as the Next Target of Terror