Published January 29th, 2018 - 03:25 GMT
The U.S. prides itself on the right to free speech
But one form of free speech is being blocked
Support for the BDS Movement is being penalized
The U.S. is lagging far behind the EU for protecting the right to support BDS
The U.S. has always prided itself as a bastion of free speech protection, but it seems to have met its match with the Boycott, Divest, Sanctions Movement (BDS).
Americans face continual legal challenges in showing support for the BDS Movement as states work to pass anti-BDS legislation or silence pro-BDS bills.
Most recently, New Orleans' City Council has rescinded a resolution aimed at supporting BDS, a move made under the pressure of pro-Israeli lobby groups. New Orleans was set to become one of the biggest cities in the U.S. to pass such a resolution, but instead it has fallen among a growing list of cities and states that silence the movement.
The initial resolution was written by the New Orleans Palestinian Solidarity Committee and called for New Orleans to refuse to do any business with companies complicit in the human rights abuses carried out by the Israeli government.
At the resolution's heart was the inclusion of a review process for investments or contracts with companies to make sure they comply with the Universal Declaration of Human Rights among other human rights conventions: "The city has social and ethical obligations to take steps to avoid contracting with or investing in corporations whose practices consistently violate human rights."
Immediately, pressure from pro-Israeli groups mounted and New Orleans' City Council rescinded the resolution, stating a desire to keep Israel welcoming to the Jewish people.
New Orleans isn't the only place in the U.S. to silence the BDS Movement. New York passed three anti-BDS bills in March of last year: two banning BDS movement activities and funding on college campuses and a third banning businesses from contracting with entities that support BDS. Texas passed roughly the same bill later in 2017.
A Protestor in New York holds a sign critiquing NY Governor Cuomo's decision to sign an anti-BDS bill into law (BDS Movement)
The BDS Movement is rare in the Israeli/Palestinian conflict as it represents a sustained and peaceful attempt to pressure Israel to end its occupation of the West Bank and its continual violations of human rights.
In a time where many fear free speech being restricted or limited to coddle to certain mentalities perceived as fragile, the systemic embargo on the BDS Movement has been allowed with little outrage.
The silencing of pro-Palestinian support movements like BDS seems to reflect the lack of popular support for Palestine in general.
Polling numbers from the Pew Research Center show broad-based sympathy for Israel over sympathy for Palestine. However, a generation gap is forming, where younger Americans are more supportive of Palestine than their older counterparts.
When asked whether they supported Trump's decision to recognize Jerusalem as the capital of Israel—a move many condemned as detrimental to the two-state solution—a plurality of polled Americans said they disapproved of his decision.
But just because the issue is a divisive one does not mean that one of those opinions ought to be discriminated against. One particularly outstanding case of discrimination against this viewpoint was Kansas' firing of a public school math teacher for voicing her solidarity with BDS in Oct., 2017.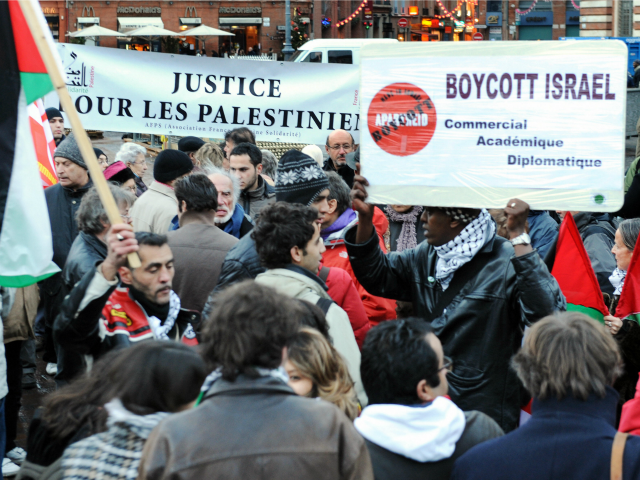 BDS Protestors (AFP/FILE)

Israel is involved in a militarized police presence in the occupied West Bank and heavy-handed incursions into Gaza that leave hundreds of Palestinian civilians dead, and protesting against these in the U.S. has many more legal barriers than showing support for Israel.
In other words, there are powerful institutions in the U.S., which include both state and city councils and legislatures, that are not only picking sides in whom to support, but are also making it actively harder to voice support for Palestine via BDS.
Even if the BDS Movement can and should be debated about whether it is the most effective vehicle to channel discontent with Israel's policies against the Palestinian people, its existence has been protected in many European countries.
In 2016, the European Union's foreign policy chief, Federica Mogherini, affirmed that the BDS movement is protected under free speech laws despite the EU's stance against boycotting Israel.
The U.S., for its part, is evidently lagging far behind the EU in terms of free speech protections for Palestinian causes.  
© 2000 - 2021 Al Bawaba (www.albawaba.com)