Published November 1st, 2018 - 09:53 GMT
Imagine conducting an experiment or establishing a place where you are able to translate your ideas, no matter how unprecedented or out-of-the-norm, from fantasy into reality. Imagine creating a human anthill that harmonizes to your ideal work environment.
Imagine running an establishment that creates economic value and potentially disrupts preexisting competition. Known as entrepreneurship, the endeavor to found a successful business is a hot topic among the MENA workforce.
Bayt.com dug deeper into the self-employment obsession. In collaboration with YouGov, the Bayt.com entrepreneurship in the MENA survey examines the extent to which this phenomenon is prevalent as well as the current entrepreneurial barriers and stimulants. Unsurprisingly, more than two thirds (71%) of respondents claimed they would prefer to be self-employed. Only 23% prefer seeking employment in a company.
Take a look at the perceived barriers and facilitators for MENA entrepreneurs:
Motives:
1. Choosing Self-employment over unemployment
You may cringe at the simplicity of this association, but the lack of employment opportunity motivates job seekers to create such opportunities. One in four young people in the MENA region is unemployed. This number is deflated with the exclusion of informal unemployment and underemployment. Although persistent unemployment is economically and psychologically taxing, it can motivate the job-seekers to explore alternative routes such as entrepreneurship and ultimately creating jobs for themselves and for many others.
Read More
All the Tips You Need to Recruit for Your Startup
Here's What to Do If You Have a Rude Boss
2. Being your own boss
When asked about reasons for starting a business, the most sited motive was the greater sense of independence at work (39% of respondents.) Being able to choose working hours, dress code, company rules…etc. are highly attractive perks of entrepreneurship. Highly stratified organizational structures and excessive hierarchy often diminishes independence at work. Entrepreneurs value self-management and find that it enables them to better focus on what they want to achieve.
3. Chasing your passion
Another reason many individuals in the MENA region prefer self-employment is that it allows them to do exactly what they are interested in. Finding a career that parallels your passion can be challenging. If your passion involves starting from the ground up and overseeing all aspects of the business then entrepreneurship is key. According to the Bayt.com entrepreneurship survey, 58% of respondents find that starting their own business affords them a sense of personal fulfillment. Those who seek to start a new business often start with their passion as a guiding map to formulating their business idea.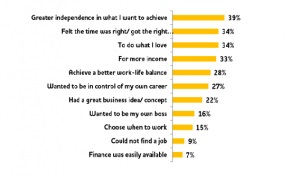 Barriers:
4. Financial-related obstacles
Starting a new business from scratch will inevitably incur multiple costs. Entrepreneurs seeking to grow their start-ups and survive the preexisting competition may face heftier financial burdens. The majority of wannabe entrepreneurs in the MENA region site costs and the inability to finance their projects as the number one obstacle.
5. Limited government support
Establishing a new business is bound by the host government's laws, regulations, and investment incentives. The majority of respondents to the Bayt.com entrepreneurship survey believe that governments could better support entrepreneurs by easing laws and regulations for setting up a business (60% of respondents.) Tax reductions, streamlined registration and licensing, and facilitated access to investors and talents are a few strategies that governments can adopt to foster an attractive entrepreneurial environment.
6. Start-up risk
Just like with any career change, there is always a risk to assume. Establishing a new business may appear even riskier as entrepreneurs often invest their own financial, physical, and human capital. Therefore, start-ups accrue the risk of failure and capital loss. Working for a company may appear as a safer option that provides a steady flow of income.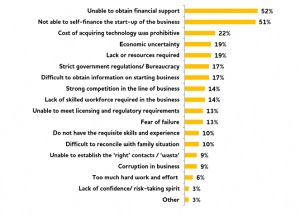 This article originally appeared in Bayt.com. This article and all other intellectual property on Bayt.com is the property of Bayt.com. Reproduction of this article in any form is only permissible with written permission from Bayt.com.