Published January 7th, 2018 - 06:00 GMT
Last week we highlighted the top 10 business stories of 2017, now it's time to look ahead. Below are five stocks, in no specific order, that we believe have some serious volatility potential in 2018, for either profit or loss:
1. Tesla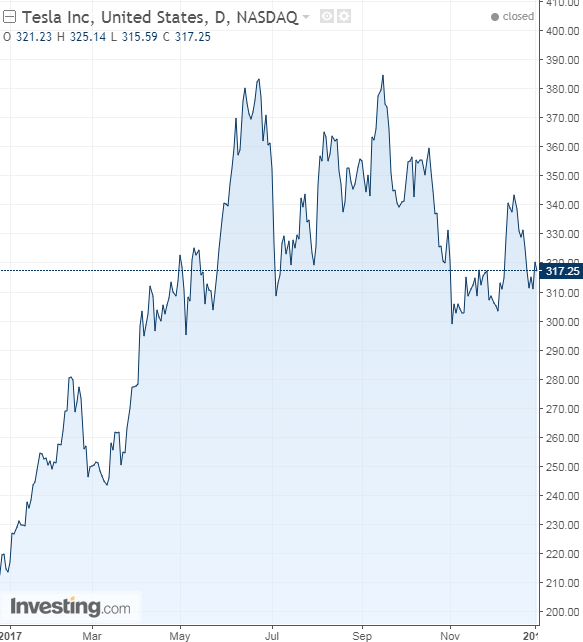 What a year Tesla (NASDAQ:TSLA) had in 2017. In July, the first Model 3s were delivered to the first 30 customers. In November, CEO Elon Musk introduced a brand new sports vehicle, the Roadster, as well as the prototype for an electric semi-truck. The semi-truck was well received by potential commercial customers; PepsiCo, Walmart, and UPS were among the companies that ordered a total of 400 trucks in December. Musk also recently teased a potential electric pick-up truck on Twitter as well.
Will The US Dollar Recover In 2018?
As is already well know, Musk is a CEO who delights in making promises, but delivering results in a timely fashion hasn't been one of Tesla's strengths so far. Tesla originally forecast 5000 Model 3 deliveries by the end of 2017, but that goal has since been pushed back to the end of Q1 2018. There were just 260 delivered in Q3.
The company is also bleeding cash at an alarming rate. Cash flow for Q3 was negative $1.4 billion, a staggering number. Tesla is being kept alive by bond offerings and secondary stock issuance – to the tune of billions of dollars.
This makes Tesla a stock to watch closely in 2018. Will the company finally emerge from production hell? Will 2018 be the year when external financing finally dries up and the company falls apart? Tesla has a market cap of $53 billion dollars and a host of tantalizing promises on tap, but it also faces some critical risks and significant problems as it heads into the new year. 
2. Teva Pharmaceutical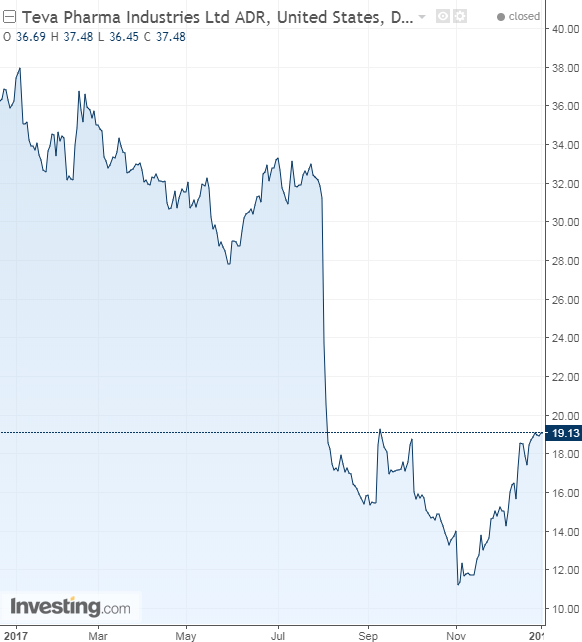 After two years of declines, Teva (NYSE:TEVA) reached what looks to be a nadir during the past year. The generic drug giant, which traded for over $70 a share in 2015, saw its stock price plunge to a low of $10 in November 2017.
Here's a quick summary of why Teva has fallen so far so fast: its August 2016 acquisition of Actavis (NYSE:AGN)—which Teva considered a growth opportunity—didn't pan out as expected when pricing in generics deteriorated. As a result the company ended up with $33 billion in debt from the acquisition but no clear path to profitability from the added expense.
As 2017 began, the company's CEO Erez Vigodman resigned amid reports of a bribery investigation. In April, longtime CFO Eyal Desheh left to pursue other opportunities. In August, Teva had a disappointing earnings report and lowered guidance, the result of more robust than expected competition from generics for its Copaxone multiple sclerosis drug.
All this makes Teva a stock to watch in 2018. New CEO Kare Schultz announced a restructuring of the company that will include a 25% cut to the company's global workforce. Teva could also be a potential takeover target now that its market cap has fallen below $20 billion. There is certainly a lot of rebuilding to do. Even mildly encouraging results during the course of 2018 could lead to a resurgence in the stock price after a disastrous two years for the company.
3. IBM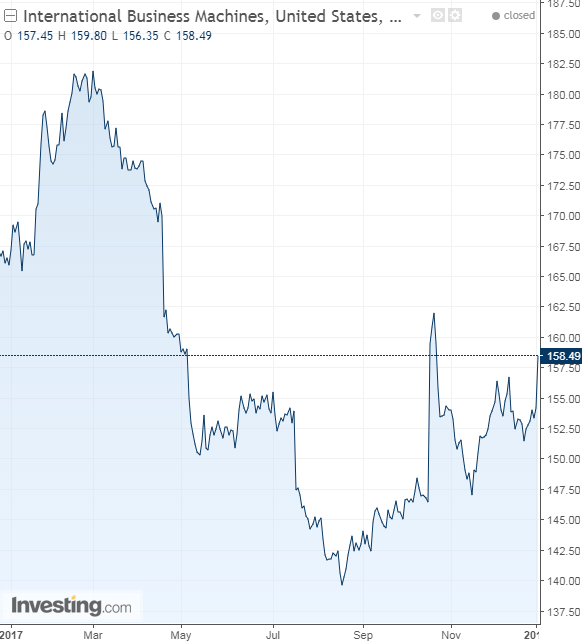 International Business Machines (NYSE:IBM), more familiarly IBM, is an old-school blue chip tech stock in a world that's increasingly being dominated by the newer, flashier tech kids on the block. Consider this: IBM's shares lost 9% of their value over the past year, and the company's three year return is minus 5%.
Bitcoin, Gold Or Bonds: Where Do I Invest In 2018?
Salesforce (NYSE:CRM), which develops and sells enterprise cloud solutions, is up 43% and 76% for the same time periods. Cloud computing competitors Amazon (NASDAQ:AMZN) and Microsoft (NASDAQ:MSFT) are up 57% and 285%, and 37% and 83%, respectively, again for the same periods of time. An additional blow for the once-mighty IBM, it was the second worst performer on the Dow, which as an index gained 25% in 2017.
For the past three years tech sector shares have literally exploded, but IBM has been left behind. Since the end of 2016, Warren Buffet has sold 54% of his stake in the company, which was worth over $13 billion dollars before the Oracle of Omaha started liquidating his position. In Q3, IBM posted its 22nd consecutive quarter of revenue declines. Put more simply, the company's revenues have been shrinking for five-and-a-half years.
IBM is still a money machine. It's brought in $11 billion in net income over the past four quarters, but disappointing returns for investors and ongoing revenue misses force us to wonder, is IBM's story just about over? We believe that IBM will be at a crossroad in 2018. Once great companies that are unable to move forward are bound to fall behind and slowly disappear. As IBM's competitors expand their market dominance, this global behemoth needs a strong 2018, or there's much worse yet to come. 
4. US Steel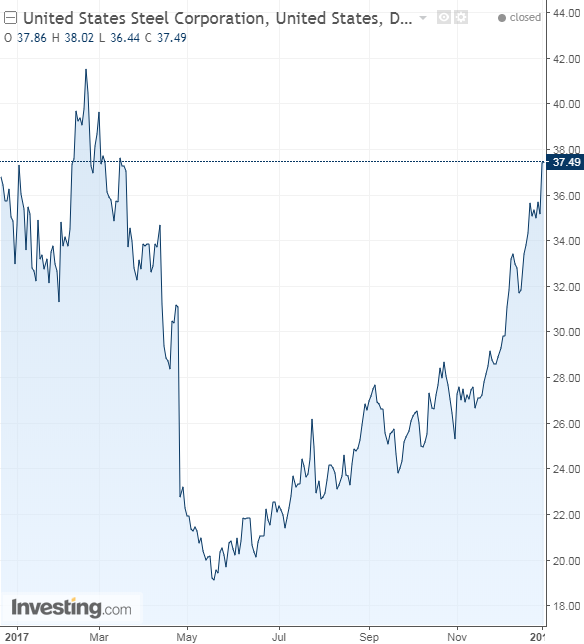 United States Steel (NYSE:X) had a schizophrenic 2017. The stock doubled in value—jumping from $20.5 to $41.8—during the months following the election of Donald Trump, a result of his campaign promises regarding infrastructure spending. However, by May, the stock plummeted 50%, to trade below $20, after disappointing earnings results along with doubts about the viability of Trump's plans to ramp-up infrastructure.
Elon Musk Has A Dream.. And It Starts In Dubai
Since then, the stock has almost doubled again, with most of the gains attributed to an investigation of Section 232 of the US Trade Expansion Act, which domestic steel makers hope will recommend the imposition of stronger restrictions on steel imports. US Steel CEO David Burritt said in Q3 that he is "fairly optimistic that 232 will have a meaningful impact on the continued unfair trade practices that are harming domestic steel."
This coming year should be an interesting one for US Steel. The ongoing "will he/won't he" surrounding Trump's infrastructure spending initiative and restrictions on basic materials imports have the potential to significantly drive US Steel shares higher yet again in 2018.
5. Netflix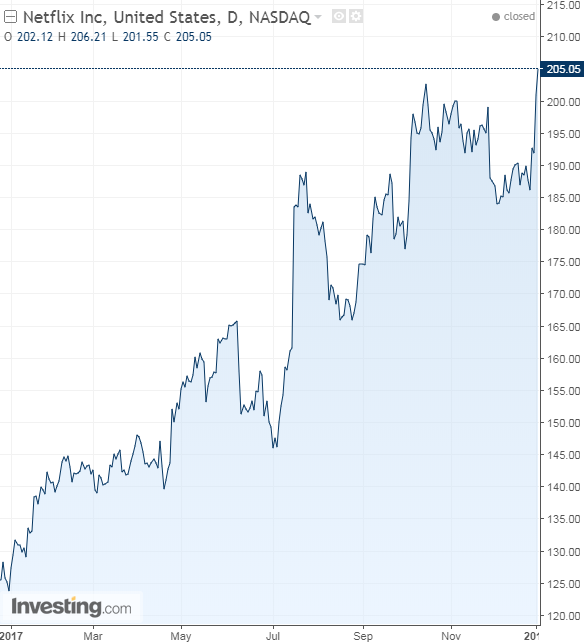 Netflix (NASDAQ:NFLX) could be in for a tumultuous 2018, but not necessarily because of anything the company itself might do. In this case, it could be that Netflix's competition will have the last word about how the entertainment company fares in the coming year.
First, the repeal of net neutrality opens up a possibility for internet providers to speed up or slow down certain websites. Under net neutrality, internet providers could not put their own content at an advantage versus competition. Now, however, they can.
This leads to the next potential hurdle for Netflix: the $85 billion dollar merger between AT&T (NYSE:T) and Time Warner (NYSE:TWX), which aims to create a two-headed, content creation and distribution monster that would squarely benefit from the net neutrality repeal. As well, Disney (NYSE:DIS) recently announced its intention to acquire 21st Century Fox (NASDAQ:FOX), in another blockbuster entertainment company deal. Concurrently, Facebook (NASDAQ:FB) and Apple (NASDAQ:AAPL) are both showing interest in penetrating the streaming market.
Nile X: First Egypt-Made Smartphone Ready For Pre-Order
And if this wasn't already enough to make Netflix's 2018 interesting, a new report by Citi analysts estimates there is a 40% chance Apple will acquire Netflix with the $220 billion it is set to repatriate to the US. How's that for a seriously interesting scenario for the coming year?
So, will 2018 be a year of reckoning Netflix? Not likely.
The company has a broad customer base in the US and worldwide. However, the combination of net neutrality repeal and stronger competition could create more than a few speed bumps in Netflix's ascent to the top of the heap in 2018.
By Clement Thibault
Via SyndiGate.info


© 2007-2022 Fusion Media Limited. All Rights Reserved.