Published September 16th, 2016 - 09:55 GMT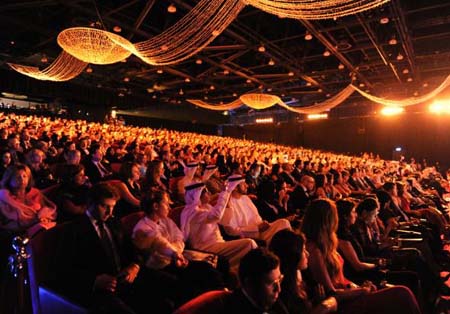 Screen International has announced that it will launch Arab Stars of Tomorrow, an offshoot of its UK & Ireland talent-spotting initiative, at this year's Dubai International Film Festival.
The Festival, which has 12 years of spotlighting burgeoning talent in the Middle East, provides the perfect platform to introduce a region-focused version of Screen's Stars of Tomorrow initiative during its 13th edition which will take place from 7-14 December at Madinat Jumeirah.
Promising talent from across the region will be shortlisted over the coming months ahead of the final list and recipients being announced during this year's festival.
Launched 13 years ago from the United Kingdom, Screen International's Stars of Tomorrow – which was presented at the BFI London Film Festival for the first time last year – has an unrivalled track record in identifying up-and-coming British and Irish talent. Benedict Cumberbatch, Emily Blunt and James McAvoy were all selected for the very first edition in 2004.
Subsequent Screen Stars of Tomorrow have included Oscar-winner Eddie Redmayne, Carey Mulligan, Tom Hiddleston, Robert Pattinson, John Boyega and filmmakers Andrew Haigh, Andrea Arnold, Corin Hardy and Stephen Fingleton.
The Arab Stars of Tomorrow is a shared commitment between Screen International and DIFF to support and promote emerging talent in the Arab world. The Festival, through its community engagement and industry aims, provides an ideal stage for the new launch, allowing a globally engaged platform from which to announce and promote promising acting and directing Arab talent that will be making waves on the festival circuit and international stage in 2017.
Shivani Pandya, DIFF Managing Director, said: "We are thrilled Screen International is launching Arab Stars of Tomorrow which offers such a great opportunity to further to support the exciting talent within this region's thriving film industry. Since DIFF's inception in 2004 we have identified an abundant of emerging talent from the region and our mission has always been to support them and elevate their careers on an international platform. We are confident that the success of this new programme will do just that and blossom to rival that of its UK counterpart in years to come."
Matt Mueller, editor of Screen International, said: "This is an exciting opportunity to identify up-and-coming talent from the region and offer them an international platform. The local industry has been growing rapidly in recent years and it feels like the perfect time to be bringing the initiative to the region. We are delighted to be launching the inaugural Arab Stars of Tomorrow at the Dubai International Film Festival."
Registration is now open for the Dubai International Film Festival. Please visit www.diff.ae for more information.
Via SyndiGate.info


© Corporate Publishing International. All rights reserved.