Published December 17th, 2017 - 02:11 GMT
Trump's recognition of Jerusalem as Israel's capital sparked widespread condemnation
The EU, U.N., and all Arab states denounced the move
Even though it was meant to strengthen Israeli-U.S. ties, Israel looks to be more isolated
The biggest loser however, is the Palestinian people
By Ty Joplin
Donald Trump's decision to recognize Jerusalem as the capital of Israel seems to have backfired. Israel, which theoretically stood to gain the most by such recognition, is left isolated regionally and globally.
But more importantly, the Palestinian people, whose cause have been symbolically taken up by the entire Arab world, have come out more alone than ever.
On Dec. 6, Trump told the world that the United States, which has carefully stepped around the Jerusalem issue, now wholeheartedly supports Jerusalem as the 'undivided' capital of Israel. Trump seems to have made the decision with his domestic campaign promises and donors in mind, rather than Middle East security or the global reputation of the United States, which has taken countless hits since Trump's inauguration.
Immediately, the move was condemned in the region and around the world, with Arab states re-affirming their allegiance to the Palestinian people and even the EU and U.N. called for the focus to remain on preserving a two-state solution.
The two-state solution now looks to be imperiled as the U.S., one of the key potential arbiters in any such talks, has appeared to firmly pick a side and give up a significant bargaining chip with Israel as a gift.
Senior Fellow of the Foreign Policy Research Institute, Dr. Barak Mendelsohn, flatly calls the move "a huge gamble by Trump for no apparent strategic logic."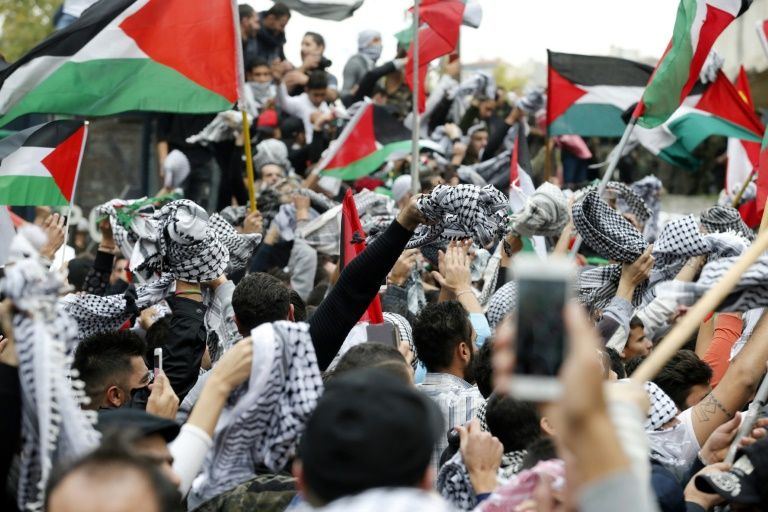 Pro-Palestine Demonstration, (ANWAR AMRO/AFP)
Israel, which on paper would have been the main beneficiary of the most powerful country in the world formally backing it, looks to be isolated as a result of the decision.
Shortly after Trump's announcement, 57 member states of the Organisation of Islamic Cooperation (OIC) met in Istanbul, Turkey to simultaneously condemn the move and recognize East Jerusalem as the capital of Palestine.
The OIC includes every Arab state, many states in North Africa and some in Southeastern Asia including Malaysia and Indonesia.
The U.N., which has long maintained that Jerusalem should legally be an international city as opposed to Israeli or Palestinian-controlled, rebuffed Trump's move, as did the EU.
The controversy had put a new spotlight on the ongoing failure of the Israeli/Palestinian peace talks, highlighting illegal Israeli settlements in the West Bank as one crucial spoiler to a two-state solution.
However, even though powerful international bodies and regional states have all decried Trump and declared their allegiance either with the Palestinian people or to the two-state solution, Palestinians are more politically alienated than ever.
Many Arab states still share mutual security concerns with Israel, which has thus far remained more important than civil rights for Palestinians.
Saudi Arabia, the most powerful Sunni Muslim country in the world, publically decried Trump. Saudi King Salman said the move , "represents an extreme bias against the rights of the Palestinian people in Jerusalem that have been guaranteed by international resolutions."
Privately, however, Saudi looks to have all but abandoned the Palestinian people.
While rumors abound regarding discreet trips from Saudi officials to Israel, Saudi has been working with the U.S. and its Middle East envoy, 36-year old husband of Ivanka Trump, Jared Kushner, on hashing out an Israeli/Palestinian deal.
After Trump's announcement, Saudi's crown prince bin Salman, who is looking to enhance Saudi's regional power, reportedly pressured Jordan to accept the decision.
"Bin Salman and the United Arab Emirates are trying to strangle Jordan's economy until it agrees to their terms, submit to their leadership in the region, and agree to Trump's so-called 'ultimate deal.'" Jordanian MP Bani Mustafa told Al Jazeera.
Dr. Mendelsohn states bluntly that "hardly anyone really cares about the Palestinian issue anymore… Arab states such as Saudi Arabia may be less likely to come out with their warming relations with Israel but as long as shared interests dictate cooperation it will continue to take place."
Israel, Saudi and other Sunni states all share security concerns regarding Iran's growing influence in the Middle East, and so far, that has taken priority over Palestinian reconciliation.
In other words, despite a massive wave of demonstrations throughout the region in support of the Palestinian people, most Arab states do not appear willing to risk security partnerships with the U.S., Israel, or Saudi and pursue a more active role in pressuring for Palestinian rights.
© 2000 - 2023 Al Bawaba (www.albawaba.com)