Published January 10th, 2018 - 02:46 GMT
Trump angrily tweeted threats at Pakistan
One day later, Pakistan adopted the Chinese yuan as an international currency
Pakistan is relying more on China for its economy
The U.S. risks being drowned out from the future of the world economy
By Ty Joplin

President Trump rang in the new year in the only way he knew how: by smack-talking Pakistan and threatening to take away billions in aid money.
On Jan. 1, Trump tweeted out: "The United States has foolishly given Pakistan more than 33 billion dollars in aid over the last 15 years, and they have given us nothing but lies & deceit, thinking of our leaders as fools. They give safe haven to the terrorists we hunt in Afghanistan, with little help. No more!"
The United States has foolishly given Pakistan more than 33 billion dollars in aid over the last 15 years, and they have given us nothing but lies & deceit, thinking of our leaders as fools. They give safe haven to the terrorists we hunt in Afghanistan, with little help. No more!

— Donald J. Trump (@realDonaldTrump) January 1, 2018
The next day, the State Bank of Pakistan fired back and announced it would be adopting the Chinese Yuan as an international currency, which allows deals to be done directly between the Pakistani rupee and Chinese yuan.
Although Trump's incendiary rhetoric and Pakistani pushback appeared to be causally linked, Pakistan's move towards China has been long in the making. From Former President George W. Bush and Barack Obama, Pakistan's relationship with the U.S. has been a tumultuous one.
But Trump has accelerated the process of deteriorating relations at breakneck speeds, and China is well-poised to pick up the replace the U.S. as Pakistan's global backer. It's not just the tweet or fraying of diplomatic relations, but the lack of concerted effort to secure Pakistan as a partner as U.S. interests are drowned out by other powers.
As Trump works on "Making America Great Again," China is literally building inroads to become West Asia's hegemon.
During Trump's short tenure, his administration has overseen the rapid retrenchment of U.S. power from West Asia and the Middle East: Trump has relinquished Iraq to Iran, stepped back on the Iranian nuclear deal, withdrawn from the Trans-Pacific Partnership, retreated from a meaningful part in the Israeli/Palestinian peace process, and now is seemingly turning its back its alliance with Pakistan.
Both economically and militarily, China is successfully implementing a plan to outbid the U.S. for Pakistan's future.
All Roads Lead to China
According to John Fei, an independent consultant who has previously served as a manager to John D. and Catherine T. MacArthur Foundation's Asia Security Initiative, China views Pakistan as a vital part of a larger initiative to establish a globally dominant economy.
"China's interests in Pakistan dovetail closely with its Belt and Road Initiative. Through the China Pakistan Economic Corridor (CPEC), China will be able to exert economic influence and gain a strategic foothold in the region."
The Belt and Road Initiative is a massive project spanning nearly the entire world, and involves China forging accessible trade routes between China and countless other countries. Part of that initiative is CPEC, a $62 billion investment in Pakistan's infrastructure to facilitate China's economic agenda.
In other words, China is essentially reworking Pakistan's entire infrastructure and economy so that it is routed to China. The project not only promises to fundamentally reshape the world economy around China, but it also spells danger for the U.S., which risks losing leverage over countries that could simply sign on to China's economic world vision.
CPEC also looks to renovate Pakistan's businesses, agriculture, defence and telecommunications, and societal structures. In the words of Firstposts' Tara Kartha, "The currency was the last bastion of the Pakistani state that remained inviolate. It seems that this is now about to be breached."
According to Fei, now that CPEC is well underway and Pakistan has adopted the Chinese yuan, it no longer needs the U.S. dollar to conduct international trade.
China has quickly become Pakistan's most critical trade partner, importing far more from China ($17.2 billion) than the closest competitor, the U.S. ($2.1 billion). China has also rapidly rose through the ranks to become Pakistan's second-largest export destination, just behind the U.S.
So while Trump attempts to revitalize the U.S. economy by 'bringing jobs back,' and advocating for a kind of anti-globalist isolationism, he has largely remained silent on the slow leaching of critical U.S. assets abroad which bolster the American economy.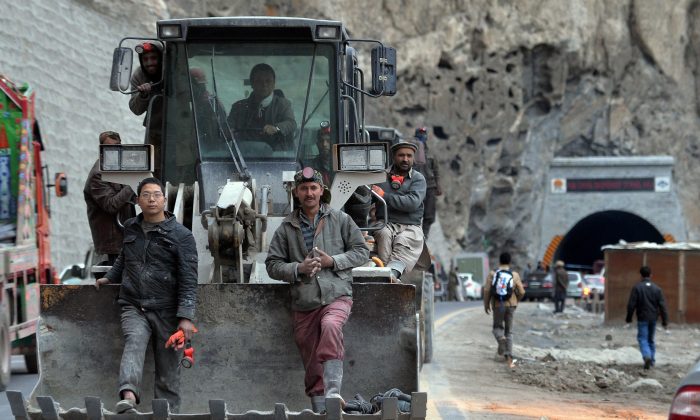 Pakistani and Chinese workers sit on an excavator as they leave the newly built tunnel in northern Pakistan's Gojal Valley (AFP/FILE)
New Chinese Military Bases in Pakistan
In a bold new move, China also plans on building one or multiple military bases in Pakistan--a radical move for a country that has only one other military base abroad (built in Djibouti in 2017).
Fei claims that its military and economic goals are intimately interlinked: "The scope, features and size of the [military] facility in Jiwani [in southwest Pakistan] will indicate the extent of Chinese ambitions in the region, and likely signal the degree to which economic initiatives, such as the Belt and Road Initiative or China-Pakistan Economic Corridor, are linked with China's larger military and security ambitions."
When reporters repeatedly asked representatives from the Chinese government about specifics regarding the planned base, the response was curt: "China and Pakistan are also making efforts to build the CPEC which is in the common interests of the countries along the route. I don't think it is necessary for the outside world to make too much guesses in this regard."
Even more telling, China may also expand Pakistan's crucial naval port in Gwadar to have military assets. "China already has commercial interests in Gwadar, but given that military and commercial uses require different facilities and equipment, it is likely that a second port to support China's military interests will be opened," Fei states.
In short, China is gambling of Pakistan becoming a central platform in its plan to project power internationally, and is doing everything in its power to secure Pakistan, including sending its military to the country.
Trump's 'America Last' Model 
At this stage, the U.S. can offer little compared to China, and Trump appears unconcerned about relinquishing what has been a crucial albeit unreliable strategic partner in the region.
China promises to completely remake Pakistan, while the U.S.' top politician tweets threats about aid money. For Pakistan, the choice is easy.
When asked what could slow down the process of an emerging Pakistan-China economic axis, Fei points to domestic factors. "If China becomes mired in internal social or economic challenges, then it will have less resources to devote to overseas diplomatic and economic initiatives… One can draw analogous scenarios for the influence of U.S. domestic developments, and the diversionary power of other external events, to its ability to maintain ties with Pakistan."
One of those 'domestic developments' preventing a close relationship with Pakistan may be the emergence of an 'America First' model of trade and governance.
To imagine a powerful U.S. economy without the support of Asia is unthinkable, but Trump seems to have made a habit of doing the unthinkable every day.
Read More:
© 2000 - 2021 Al Bawaba (www.albawaba.com)